Today's small business owners are very lucky. All they have to do is log in to their email accounts and they can get business advice and tips right in their inbox. So unlike the days before the Internet when people actually have to go to school to learn how to operate their businesses and hire a consultant to help them grow it.
One area that small business owners are getting a lot of help with is social media. There are gurus all over the web who are coaching businesses to become more social and adaptive to new online technologies. Yet despite their rallying, only about 31% of small business owners are using social media for their enterprises. This is according to the latest results of the Small Businesses Success Index survey sponsored by Network Solutions and the Center for Excellence in Service at the University of Smith School of Business.
What's stopping small businesses from adopting social media? One of the plausible reasons is what we call "analysis paralysis." Because there's too much information being thrown their way, business owners get stuck in the process of deciding which social media channels to join to the point that they end up abandoning the adoption process.
How do we address this problem? Eliminate the overwhelm by identifying the social networks that are essential for building your brand's online presence. Thus, without further ado, here are the must-join social networks for small businesses.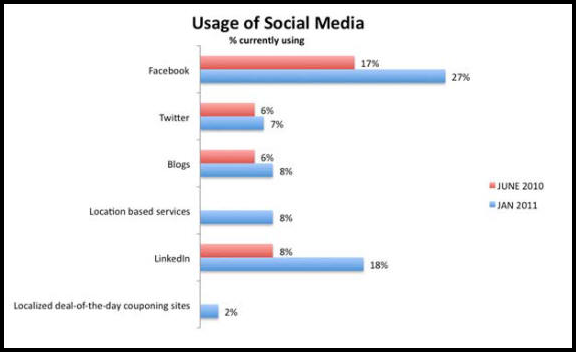 Facebook – With the recent updates announced at the F8 developer conference, this social network behemoth continues to be business-friendly. Business fan pages are growing by thousands daily, allowing businesses to reach thousands of customers and potential customers. Facebook ads are also giving web sites inexpensive ways to market their business.
LinkedIn – This is the social network of choice for professionals. Respondents of the Small Business Success survey pinpoint this channel as their second most preferred network after Facebook. This could be because LinkedIn is for people who are serious about sharing their expertise, building professional relationships and partnerships, and promoting businesses.
Twitter – Though not as popular among business owners as the two previous networks, Twitter's a good channel for promoting products and services and finding potential customers and partners.
Google + – This newcomer to social network space is giving Facebook a run for its money. Already, the more technologically savvy users of Facebook have migrated to Google's social network . Yet, it is still unclear how small businesses can use Google+ for their marketing efforts. But since it's already 16 million strong, those who will get into it will have the distinction of being "first."
So, tell us, which networks are you using and how does that help our business?